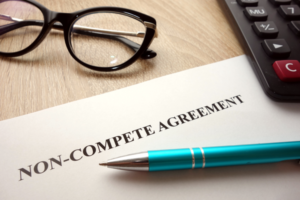 Many employment and service contracts contain covenants not to compete so that businesses can have some assurance that their valuable employees or contractors, upon separation, do not dilute the businesses' marketability in their established area. However, noncompetition language is not enforceable simply by virtue of being in a contract. It must follow applicable laws to be enforceable and could be hollowed out or struck by a court if not properly drafted.
The Texas Business Code and covenants not to compete:
Texas Business Code Chapter 15.50(a) – Criteria for Enforceability of Covenants Not to Compete
"Notwithstanding Section 15.05 of this code, and subject to any applicable provision of Subsection (b), a covenant not to compete is enforceable if it is ancillary to or part of an otherwise enforceable agreement at the time the agreement is made to the extent that it contains limitations as to time, geographical area, and scope of activity to be restrained that are reasonable and do not impose a greater restraint than is necessary to protect the goodwill or other business interest of the promisee."
What is a "reasonable" restraint on trade in a non-compete?
The reasonableness of a non-compete's language is a question of law, meaning a judge (rather than a jury) would consider the language and determine its reasonableness. Three factors would be considered, which are:
Whether the language is ancillary to a valid transaction or relationship.

Whether the restraint created by the agreement is greater than necessary to protect the employer's legitimate interests. These can include business goodwill, trade secrets, and other types of confidential or proprietary information, such as client lists.

Whether the employer's need for protection is outweighed by the hardship to the employee or by any likely injury to the public.
What role does scope of time, area, and activity play in determining whether a non-compete is reasonable?
In the most obvious terms, a non-compete with zero limits on geography, scope of activity, or time duration is unreasonable. For example, the Dallas appellate court found the following covenant to be unreasonable as a matter of law because the employer's relationship with any client would have to end before the former employee could ever compete, and the client relationship could last indefinitely, meaning the former employee could potentially never be able to compete.
Without written approval from COMPANY, EMPLOYEE shall not accept direct or other subcontract employment either at this or other facilities of CLIENT, or from any firm with which COMPANY has an existing contract, during and for a period of thirty (30) days beyond the period of association between COMPANY and CLIENT or any firm of aforesaid.
As shown, the "limitation" of thirty days was not enough to meet the reasonableness test, since the employer's and clients' relationships were indefinite. Additionally, the covenant contained no geographic area where the employee could accept employment during that time. Because the clause was unreasonable and too great of a restraint on trade, the court found it to be unenforceable. General Devices v. Bacon, 888 S.W.2d 497 (Tex. App.—Dallas 1994, no writ).
Seek legal advice when drafting employment or service contracts and non-competition covenants.
There are important reasons to include non-competition language in contracts, including for the purpose of protecting the training, knowledge, and marketing opportunities an employer provides their employee. An experienced attorney can help ensure that the non-competition language is enforceable and stands up to legal scrutiny should the clause come before a court.
© De Leon Washburn & Ward, P.C. This article is provided for informational purposes only. It is not intended as legal advice nor does it create an attorney-client relationship between De Leon Washburn & Ward, P.C. or its lawyers and any readers or recipients. Readers should consult an attorney of their own choosing to discuss how these matters relate to their individual circumstances. Articles are not continuously updated, so information may become out-of-date. Reproduction in whole or in part is prohibited without the express written consent of De Leon Washburn & Ward, P.C.