What is an affirmative defense?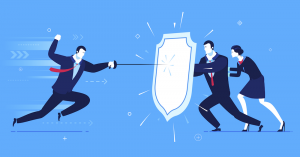 When a party files a lawsuit for damages, they set forth factual and legal allegations as to how they were wronged by the named defendant. Naturally, in answering the
suit, the defendant will deny the allegations made by the plaintiff. In some cases, the defendant will also assert affirmative defenses whereby he sets forth his own explanation of events and why, given those events, he is not liable to the plaintiff, even if the plaintiff's allegations are true to some degree. There are several affirmative defenses that can be used against a breach of contract claim, three of which are explained below.
Fraud
To establish before a court the affirmative defense of fraud, the defendant must show that:
A material representation was made
The representation was false
The speaker made it with the knowledge that it was false or recklessly without any knowledge of its truth
The speaker made it with the intent that it should be acted on
The defendant acted in reliance upon it and was a significant factor in inducing the defendant to make the contract
The defendant suffered injury as a result of the reliance.
If a fraud affirmative defense can be established, the defendant can avoid performing on the contract or paying damages for nonperformance, as the contract will usually be considered null.
Failure and Lack of Consideration
In contract formation, in simple terms, consideration is what a party provides or gives up in exchange for something desired from the other party, like a promise, a good, or a service.
A "failure of consideration" defense can be asserted when mutual promises are made in a contract, but after the contract's inception, a party's promised consideration does not adhere to the contract.
In one case involving a lease agreement, one party had contracted to provide its lessee with the use of a parking lot at the property. Contrary to the agreement, the landlord's other tenants used most, and sometimes all, of the parking spaces, preventing the lessee's customers from having access to any spaces. This set of facts was enough to prevent the plaintiff-landlord from prevailing on a summary judgment motion against the affirmative defense, meaning the lessee had sufficiently asserted its affirmative defense. Chenung-Loon, LLC v. Cergon, Inc., 392 S.W.3d 738 (Tex. App.—Dallas 2012, no pet.).
A "lack of consideration" defense can be asserted when the alleged contract involved no mutuality of consideration, such as mutual promises to perform, or an exchange of money for a good or service.
Laches
The affirmative defense of laches to a breach of contract claim is unique in that it cannot be asserted when the plaintiff is pursuing a claim founded on a purely legal right. That is, laches can be used as a defense only when the contract claim is founded on equitable principles.
In arguing laches, the defendant asserts that
There is an unreasonable delay by one having legal or equitable rights in asserting them, and
A good faith change in position by another to his detriment because of the delay.
A "change in position" may include the impairment of the defendant's ability to defend against the claim or ascertain the true facts. In such circumstances, courts are to bar the plaintiff's claim.
For example, in a declaratory judgment action dealing with a dispute over the right to oil production royalties, the courts found that the plaintiffs had waited seven years after the alleged cessation of production before arguing that the "defendant's royalty interest had terminated." As a result of the delay, it was difficult to ascertain the scope of production and operating costs, as well as to collect evidence. The court found this was sufficient to bar the suit. De Benavides v. Warren, 674 S.W.2d 353 (Tex. App.—San Antonio 1984, no pet.).
Keep potential affirmative defenses in mind when negotiating or performing a contract.
Affirmative defenses aren't relevant only to active litigation. A successful affirmative defense actually came into being during either the contract's formation, or its performance. This is why it's important to retain qualified legal counsel in drafting and reviewing contracts so that the contract has a greater chance of being enforced by a court should litigation arise.
---
Athena Ponce and the attorneys at De Leon & Washburn, P.C. are available to assist clients with business litigation issues. For more information regarding the firm's practice areas, please visit our Practice Areas page, and please feel free to contact the attorneys at any time.
© De Leon & Washburn, P.C. This article is provided for informational purposes only. It is not intended as legal advice nor does it create an attorney/client relationship between De Leon & Washburn, P.C. and any readers or recipients. Readers should consult counsel of their own choosing to discuss how these matters relate to their individual circumstances. Articles are not continuously updated, so information may become out-of-date. Reproduction in whole or in part is prohibited without the express written consent of De Leon & Washburn, P.C.