What's an affirmative defense?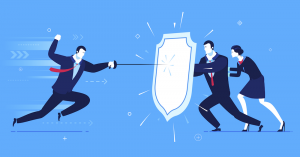 When a party files a lawsuit for damages, they set forth factual and legal allegations as to how they were wronged by the defendant. In answering the suit, the defendant will deny the allegations, and in some cases, the defendant will also assert affirmative defenses whereby he sets forth his own explanation of events and why he is not liable to the plaintiff, even if the plaintiff's allegations are true. There are several affirmative defenses that can be used against a breach of contract claim, three of which are explained below.
Failure to Satisfy a Condition Precedent
"A condition precedent may be either a condition to the formation of a contract or to an obligation to perform an existing agreement. Conditions may, therefore, relate either to the formation of contracts or to liability under them. Conditions precedent to an obligation to perform are those acts or events, which occur subsequently to the making of a contract, that must occur before there is a right to immediate performance and before there is a breach of contractual duty." Hohenberg Bros. Co. v. George E. Gibbons Co., 537 S.W.2d 1 (Tex. 1976).
How can you tell if a term is a condition precedent?
Words like "if, provided that, on condition that," usually indicate that condition precedent is intended, not simply a promise. If such language is lacking, the contract in its entirety will be considered so the parties' intentions can be determined.
Statute of Frauds
Texas's Statute of Frauds requires that certain contractual agreements be in writing and signed by the parties to the agreement in order for the contract to be enforceable. This Statute can be found in Texas Business and Commerce Code § 26.01, which reads:
(a)  A promise or agreement described in Subsection (b) of this section is not enforceable unless the promise or agreement, or a memorandum of it, is: (1)  in writing;  and (2)  signed by the person to be charged with the promise or agreement or by someone lawfully authorized to sign for him.
These requirements apply to:
a promise by an executor or administrator to answer out of his own estate for any debt or damage due from his testator or intestate;
a promise by one person to answer for the debt, default, or miscarriage of another person;
an agreement made on consideration of marriage or on consideration of nonmarital conjugal cohabitation;
a contract for the sale of real estate;
a lease of real estate for a term longer than one year;
an agreement which is not to be performed within one year from the date of making the agreement;
a promise or agreement to pay a commission for the sale or purchase of:

an oil or gas mining lease;
an oil or gas royalty;
minerals; or
a mineral interest; and

an agreement, promise, contract, or warranty of cure relating to medical care or results thereof made by a physician or health care provider as defined in Section 74.001, Civil Practice and Remedies Code. This section shall not apply to pharmacists.
Waiver
Waiver can be argued against a party who: intentionally relinquishes a known right, acts in a manner that conflicts with making a claim to that right, or renounces a known right. A person can waive rights that arise from the law or a contract. Even being silent or inactive for a long time can be considered waiver, if it can be understood that there was an intention to abandon the right.
Keep potential affirmative defenses in mind when negotiating or performing a contract
Affirmative defenses aren't relevant only to active litigation. A successful affirmative defense actually came into being during either the contract's formation, or its performance. This is why it's important to retain qualified legal counsel in drafting and reviewing contracts so that the contract has a greater chance of being enforced by a court should litigation arise.
Athena Ponce and the attorneys at De Leon & Washburn, P.C. are available to assist clients with contractual issues. For more information regarding the firm's practice areas, please visit our Practice Areas page, and please feel free to contact the attorneys at any time.
---
Athena Ponce and the attorneys at De Leon & Washburn, P.C. are available to assist clients with commercial litigation, employment agreements, comprehensive arbitration, separation advice, and employment litigation. For more information regarding the firm's practice areas, please visit our Commercial Litigation page, and please feel free to contact the attorneys at any time.
© De Leon & Washburn, P.C. This article is provided for informational purposes only. It is not intended as legal advice nor does it create an attorney/client relationship between De Leon & Washburn, P.C. and any readers or recipients. Readers should consult counsel of their own choosing to discuss how these matters relate to their individual circumstances. Articles are not continuously updated, and D&W makes no warranty or representation regarding accuracy or completeness.