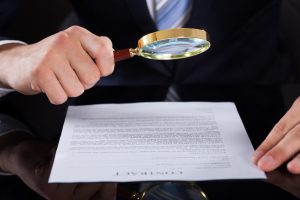 Many factors come into play when the enforceability of a contract is being examined, and one of these factors is whether or not the contract had to be in writing and signed by the contracting parties in order to be enforceable by a court.
Some Contracts Must be in Writing and Signed.
In Texas, certain kinds of contracts must be in writing and signed to be enforceable under statutory provisions such as the Statute of Frauds (Tex. Bus. & Comm. Code § 26.01) or the Uniform Commercial Code. These are:
A promise by an executor or administrator to answer out of the executor or administrator's own estate for any debt or damage due from the testator or intestate
A promise by one person to answer for the debt, default, or miscarriage of another
An agreement made on consideration of marriage or on consideration of nonmarital conjugal cohabitation
A contract for the sale of real estate. The statute of frauds applies to any transfer of an interest in land, including oil and gas leases and easements
A lease of real estate for a term longer than one year
An agreement that is not to be performed within one year from the date of making the agreement. If the agreement may conceivably be performed in one year, the statute of frauds does not apply, no matter how improbable performance within one year may be
A promise or agreement to pay a commission for the sale or purchase of an oil or gas lease or royalty, minerals, or a mineral interest
An agreement, promise, contract, or warranty of cure relating to medical care or results made by a physician or health care provider other than a pharmacist
A loan agreement in which the amount involved in the loan agreement exceeds $50,000 in value ( Bus. & Comm. Code § 26.02)
A contract for the sale of goods for the price of $500 or more ( Bus. and Comm. Code § 2.201, the UCC)
Oral Contracts Often Can be Enforced, but Make Sure Your Contract is Specific.
Despite the above list and what many may believe, however, oral contracts are frequently enforceable. For example, contracts for services that can be performed in less than a year can be enforceable, especially if the person who was to render services has already substantially performed their part of the contract and/or expended money or resources or incurred some kind of debt or loss that the other contracting party should have reasonably anticipated would result from the contractual promise they made (this kind of "harm" is often called "detrimental reliance" during a legal analysis).
Specificity is Key.
Even though oral contracts are frequently enforced, it's important to bear in mind that in order for a contract to be enforceable, even a written one, it should be sufficiently definite in its material terms. T.O. Stanley Boot Co. v. Bank of El Paso, 847 S.W.2d 218, 221 (Tex. 1992). Which terms are "material" will vary depending on the nature of the contract, and "essential terms of a contract may include the time of performance, the price to be paid, the work to be done, the service to be rendered, or the property to be transferred." Crisp Analytical Lab, L.L.C. v. Jakalam Props. Ltd., 422 S.W. 3d 85, 89 (5th Cir. 2014). Overall, some good ways to think about materiality are:
"What do the parties need to know in order to perform their parts of the contract through the duration of the contract?"
"What terms would the parties consider to be important enough to pursue in a breach of contract claim?"
"What would be the remedy for each party, if any, were a breach of contract to occur?"
FFSS v. Corilant Fin., L.P. 376 S.W.3d 253, 256 (Tex. App.—Dallas 2012, no pet.).
Defined, agreed-upon material terms are necessary because courts usually will not and cannot guess at what parties intended if such intent is lacking in a contract, meaning chances of enforcing such a contract are low. T.O. Stanley Boot Co. v. Bank of El Paso, 847 S.W.2d at 221. Sometimes courts will supply "reasonable" terms that were left out by mistake or are so obviously implied by the contract that the court can still evaluate the contract as a whole. For example, if all other elements of a contract have been met except for a price agreement, a court "may imply a reasonable price" during a contract dispute. Inimitable Group, L.P. v. Westwood Group Dev. II, Ltd., 264 S.W.3d 892, 899 (Tex. App.—Fort Worth 2008, no pet.).
An Attorney Now Can Prevent Problems Later.
If you plan on entering or drafting a contract that will present significant legal, financial, employment, and/or time obligations, it's advisable to seek legal counsel so that you understand your rights and enter a contract that is both equitable and enforceable.
---
Athena Ponce and the attorneys at De Leon & Washburn, P.C. are available to assist clients with contractual issues. For more information regarding the firm's practice areas, please visit our Practice Areas page, and please feel free to contact the attorneys at any time.
© De Leon & Washburn, P.C. This article is provided for informational purposes only. It is not intended as legal advice nor does it create an attorney/client relationship between De Leon & Washburn, P.C. and any readers or recipients. Readers should consult counsel of their own choosing to discuss how these matters relate to their individual circumstances. Articles are not continuously updated, so information may become out-of-date. Reproduction in whole or in part is prohibited without the express written consent of De Leon & Washburn, P.C.