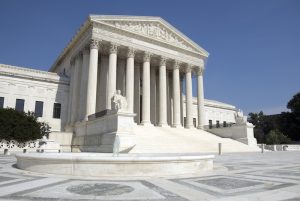 On June 1, 2015, in the case of Equal Employment Opportunity Commission v. Abercrombie & Fitch Stores, Inc., the U.S. Supreme Court announced an 8-to-1 decision that could have broad ramifications for employers that are addressing discrimination and accommodation issues.  In the case, retailer Abercrombie & Fitch had refused to hire Ms. Elauf, a female practicing Muslim, because her religious head scarf conflicted with the company dress policy. The Equal Employment Opportunity Commission (EEOC) filed suit on Elauf's behalf, alleging that the company's actions violated Title VII of the Civil Rights Act of 1964, which prohibits a prospective employer from refusing to hire an applicant because of the applicant's religious practice when the practice could be accommodated without undue hardship.
The District Court ruled in favor of the EEOC, but the Tenth Circuit appellate court reversed, awarding Abercrombie summary judgment on the ground that failure-to-accommodate liability attaches only when the applicant provides the employer with actual knowledge of his need for an accommodation.  The Supreme Court rejected the logic of the appellate court, and issued a nearly-unanimous decision that strongly reinforces the importance of the religious accommodation requirement of Title VII.  This decision is important and interesting for many reasons—reasons both cultural and legal.
For the purpose of this note, I want to highlight the message that the Supreme Court is loudly reinforcing to employers, which is this: because faith-related expression is so important and "favored" under U.S. law, an employer may be held liable for objectionable practices even if the employer didn't know with certainty that the practice was based in religion.  Specifically, Justice Scalia wrote that "[A]n employer who acts with the motive of avoiding accommodation may violate Title VII even if he has no more than an unsubstantiated suspicion that accommodation would be needed."  Understandably, this holding may cause employers to take another glance at common provisions in their employee handbooks, such as dress and appearance policies.
This holding by the Supreme Court may also have many employers asking "what is the court asking me to do?"  It does not appear that the Court is asking employers to affirmatively probe for religious information with all candidates.  (In fact, affirmatively asking for a lot of religious information could easily lead to the appearance of discrimination and/or claims of discrimination).  In my opinion, the Court is advising that employers need to make religious accommodations any time the employer is presented with facts that raise the slightest suspicion that a religious accommodation may be needed.  The Court is telling all employers to keep their eyes and ears open and pay close attention anytime an employee raises a concern about a policy or restriction that might touch on religion.
Here is a link to the full Supreme Court opinion for those who want to read further.
---
George B. Ward and the attorneys at De Leon & Washburn, P.C. are available to assist clients with employment agreements, separation advice, and employment litigation.  For more information regarding the firm's practice areas, please visit our Employment Law page, and please feel free to contact the attorneys at any time.
© De Leon & Washburn, P.C.  This article is provided for informational purposes only.  It is not intended as legal advice nor does it create an attorney/client relationship between De Leon & Washburn, P.C. and any readers or recipients. Readers should consult counsel of their own choosing to discuss how these matters relate to their individual circumstances.  Articles are not continuously updated, so information may become out-of-date.  Reproduction in whole or in part is prohibited without the express written consent of De Leon & Washburn, P.C.