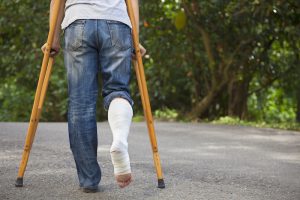 If you operate a business in Texas, especially one in retail or food service, litigation can arise if you do not safely maintain your property or adequately respond to the dangerous conduct of patrons and visitors. In Texas, business property owners can be held liable for injuries sustained by visitors, whether the injury was caused by a condition on the property, or by a person present at the scene. To avoid premises liability litigation, businesses should understand their legal responsibilities when it comes to property maintenance, employees' duties, and visitors' conduct, and should act accordingly to reduce their exposure to tort claims.
Businesses Owe a Legal Duty of Reasonable
Care to Their Invitees
If a store/business is open to the public, it's considered to be inviting members of the public, and such visitors are called "invitees." Businesses owe invitees a legal duty to exercise reasonable care to protect them against danger from a condition on the premises that creates an unreasonable risk of harm of which the owner knew, or through reasonable care, would discover. An obvious example is the slip-and-fall case where water or food is left on the floor.
Injuries Caused by Third-parties (Non-employees)
Businesses can also be liable for damages caused by third parties on their premises, so it's important to not assume that your business is liable only for the conduct of employees. While it is true that, generally speaking, a business owner is not liable to invitees for the criminal acts of third persons, liability does arise when the business knows or has reason to know that such acts are occurring, or are about to occur and such conduct is foreseeable. A duty exists in such situations because the owner has the ability to control the premises and expel a dangerous visitor. Such case arises, for example, when a patron in a bar becomes belligerent and is exhibiting aggression towards others. If this behavior continues without intervention from the business, and the aggressor injures someone, the business can likely expect an insurance claim or lawsuit in the near future because they should have removed the person or called the police to intervene.
When are Security Guards a Good Idea?
Sometimes, the likelihood of future crimes is so clear that businesses have a duty to prevent criminal activity by placing security guards on the property. A number of factors are considered when determining whether a business had a duty to go the extra mile and provide security guards.
Whether any criminal conduct previously occurred on or near the property
How recently it occurred
How often it occurred
How similar the conduct was to the conduct on the property
What publicity was given the occurrences to indicate that the landowner knew or should have known about them.
Think Preventatively to Minimize Risks
Though it's impossible to predict every risk, businesses can reduce their risk of exposure through employee training and expert advice. Physical safety should be an important and recurring part of employee training. Employees should learn and relearn that it's necessary to keep floors clean and free of obstructions, to secure merchandise on shelves, and to report safety hazards like leaks and holes. Employees should also learn how to deal with potentially dangerous customers and how to remove them from the premises.
Inadequate safety training will almost inevitably result in negligence, and if your business is sued for a customer's injuries, your case will be weakened if safety training and policies are inadequate. Additionally, it may be necessary to consult with a risk assessment and/or security expert to determine how best to keep customers safe.
Minimizing Customers' Risks Minimizes Your
Chances of Heavy Losses
While it's important for businesses to manage issues like theft and property damage, it's just as important to minimize risk to customers since litigation and damages awards can cost a business hundreds of thousands, even millions, of dollars and result in bad publicity in egregious cases. Ultimately, minimizing premises liability risks protects both customers and your business's bottom line.
© De Leon & Washburn, P.C.  This article is provided for informational purposes only.  It is not intended as legal advice nor does it create an attorney/client relationship between De Leon & Washburn, P.C. and any readers or recipients. Readers should consult counsel of their own choosing to discuss how these matters relate to their individual circumstances.  Reproduction in whole or in part is prohibited without the express written consent of De Leon & Washburn, P.C.