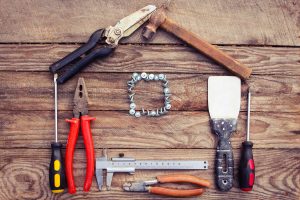 Right now, housing in Austin is known for high prices and relative scarcity. However, many low-income Austin homeowners are living in homes that are in disrepair for various reasons. De Leon & Washburn has supported Volunteer Legal Services of Central Texas (VLS) for many years, and our attorneys have worked with VLS pro-bono clients in trying to improve their housing situations through repair and rebuilding programs available through the City of Austin, the State of Texas, and various nonprofits.
Below is information that low-income home-owners and other pro bono attorneys may find helpful in locating home repair assistance. Bear in mind that different programs have different funding allotments and different capacities in terms of the levels of repair they can offer. If a home is in substantial need of repair, the owner may need to apply to several assistance programs and request that their funding be pooled together so there is enough funding to make serious repairs.
Government Assistance
City of Austin
The City of Austin's Neighborhood Housing and Community Development division offers various programs and funding that can help repair damaged homes and/or make homes safer for those who are disabled or elderly. Austin residents can find services for home lead removal, general repairs, Architecture Barrier Removal to improve access and mobility for the disabled, and other services.
Visit http://www.austintexas.gov/empower for further information, or the division may be contacted by calling 512-974-3100. The application for these programs can be found at http://austintexas.gov/sites/default/files/files/Housing/Application_Center/NHCD-AHFC_Application_Combined_2014.pdf. When the application is submitted, accompanying documentation will be required for the application to be considered; a checklist is at the end of the application explaining what must be provided.
Texas Department of Housing and Community Affairs
This state agency administers several different housing programs, including programs that offer home repair/reconstruction assistance such as the Amy Young Barrier Removal Program and the Homeowner Rehabilitation Assistance Program.
Amy Young Barrier Removal (AYBR) Program (HTF)
"Provides funds to eligible entities for accessibility modifications in rental and owner-occupied housing for persons with disabilities earning up to 80-percent area median family income. Offered through TDHCA's state funded Housing Trust Fund Program."
Homeowner Rehabilitation Assistance (HRA) Program (HOME)
"The Homeowner Rehabilitation Assistance (HRA) Program provides funds to eligible entities for the rehabilitation or reconstruction of substandard homes owned and occupied for homeowners earning up to 80 percent area median family income. Offered through TDHCA's federally funded Texas HOME Program."
Information on available programs can be found at https://www.tdhca.state.tx.us/overview.htm. The agency can all be reached at 512-475-3800.
Non-Profit Assistance
Hands on Housing through Interfaith Action of Central Texas (iAct)
IActs' website provides the following description of their home repair program: "iACT's Hands on Housing utilizes volunteers and skilled professionals to repair the homes of senior citizens and disabled individuals who are living in deep poverty. Our goal is to keep our homeowners safe and help them remain in the homes and neighborhoods they love."
A one-pager on the program can be found at http://interfaithtexas.org/wp-content/uploads/2015/02/One-Pager-for-Outreach-bilingual.pdf.
Links to applications in English and Spanish can be found at http://interfaithtexas.org/hands-on-housing/apply-for-service/.
Meals on Wheels and More
Meals on Wheels, provides a variety of services, including home repair. Information can be found at http://www.mealsonwheelsandmore.org/programs/home-repair-program/. The organization can also be reached by phone at 512.476.MEAL(6325) or by email at email@mealsonwheelsandmore.org.
Meals on Wheels' website reads:
To be eligible for home repairs and/or modifications, the client must meet the following criteria:
Submit an application and proof of income
Total household income is at or below 80% of the Median Family Income (MFI) for Travis County, Texas (less than $42,500/year for one person)
Agree to the program requirements
Have no outstanding debts or judgments owed to any government agencies
Has not received previous assistance from another home repair group in the same fiscal year
The home must be in the Meals on Wheels and More service area
In addition to the above criteria, homeowners must meet the following criteria:
The home must be owner-occupied and in the owner's name
Property taxes are current or property owner is on a payment plan
Must insure the property against lost or damage.  This requirement may be waived for applicants earning at or below 30% MFI ($15,950/year for one person).
Austin Habitat for Humanity
From the organization's website:
"We accept applications and reach out to neighborhood organizations to identify low-income, hardworking families whose homes are in need of repair, typically seniors, disabled, veterans, and single-parent families."
"We partner with the City of Austin and a mix of generous organizations to raise the funds to provide help with home repairs for low income families. We also provide opportunities for caring volunteer groups to assist homeowners in completing repair and have now expanded into Bastrop County."
There is a project fee of $150 for approved homes, but payment plan options may be available, depending on the homeowner's circumstances.
Information on home repairs through Austin Habitat for Humanity can be found at http://www.austinhabitat.org/apply-for-home-repair. The Home Repair staff can be reached at 512-472-8788 extension 411.
---
© De Leon & Washburn, P.C. This article is provided for informational purposes only. It is not intended as legal advice nor does it create an attorney/client relationship between De Leon & Washburn, P.C. and any readers or recipients. Readers should consult counsel of their own choosing to discuss how these matters relate to their individual circumstances. Articles are not continuously updated, so information may become out-of-date. Reproduction in whole or in part is prohibited without the express written consent of De Leon & Washburn, P.C.