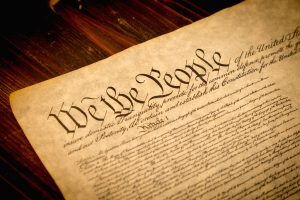 It's commonly understood that questions of constitutional law come up frequently in the practice of criminal law, since several amendments in the United States Constitution deal directly with guaranteed protections from governmental overreach during the investigation and prosecution process.
But civil practitioners must also frequently consider the United States Constitution when handling matters such as employment discrimination, freedom of speech, and the question of due process when dealing with governmental decision-makers.
For example, a student attending a state university is "entitled to a higher level of procedural due process" when he or she is "accused of dishonesty concerning an exam," and "public employees who can be discharged only for cause have a constitutionally protected property interest in their tenure and cannot be fired without due process." Univ. of Tex. Med. Sch. at Houston v. Than, 834 S.W.2d 425, 430 (Tex. App.—Houston [1st Dist.] 1992, writ granted); Cnty. Of Dallas v. Wiland, 216 S.W.3d 344, 352 (Tex. 2007).
Don't Overlook the Texas Constitution
When considering whether to incorporate constitutional arguments into your client's case, it's important to remember that the Texas Constitution is also a source of legal protections and guidance. The Texas Constitution has a Bill of Rights, Section 19 of which reads: "No citizen of this State shall be deprived of life, liberty, property, privileges or immunities, or in any manner disfranchised, except by the due course of the law of the land."
The Due Course of Law under Art. 1, § 19 of the Texas Constitution
This "Due Course of Law" section was at issue recently in the Texas Supreme Court when certain Texas statutes and regulations affecting salons were challenged as violating the due course of law provision. The statutes and regulations, as well as the Texas Department of Licensing and Regulation, were challenged because they required that people who provided only a particular kind of hair removal service had to complete 750 hours of cosmetology training, even though about 40% of the training hours were unrelated to that specific service.
The Texas Supreme Court concluded that the training requirement was "so oppressive that it violate[d] Article 1, § 19 of the Texas Constitution." Patel v. Tex. Dep't of Licensing and Regulation, 58 Tex. Sup. Ct. J. 1298. The court reached this conclusion by using an "as-applied" analysis that considered whether "when considered as a whole, the statute's actual, real-world effect as applied to the challenging party could not arguably be rationally related to, or is so burdensome as to be oppressive in light of, the governmental interest."
Separation of Powers Clause in the Texas Constitution
Another angle from which civil attorneys can challenge governmental actions is the Separation of Powers Clause in the Texas Constitution. In one case, a Family Code statute was struck down as infringing on the powers of the courts. "The Separation of Powers Clause is violated (1) when one branch of government assumes power more properly attached to another branch or (2) when one branch unduly interferes with another branch so that the other cannot effectively exercise its constitutionally assigned powers." In re D.W., 249 S.W.3d 625 (Tex. App.—Fort Worth 2008, pet. denied). This kind of argument can be powerful because when one governmental branch unduly interferes with the powers of another, that action is considered "null and void."
Be Inquisitive and Creative and in Your Research and Writing
As attorneys, we are expected to be creative and vigorous in our advocacy, and legal research and writing provides an opportunity to draw from all manner of legal authorities in representing our clients. Sources such as statutes and case law are obvious go-to's when presenting a client's case, but even not-so-obvious authorities such as the Texas Constitution can substantially bolster, or even make, your argument.
---
Athena Ponce and the attorneys at De Leon & Washburn, P.C. are available to assist clients with litigation and administrative compliance issues. For more information regarding the firm's practice areas, please visit our Practice Areas page, and please feel free to contact the attorneys at any time.
© De Leon & Washburn, P.C. This article is provided for informational purposes only. It is not intended as legal advice nor does it create an attorney/client relationship between De Leon & Washburn, P.C. and any readers or recipients. Readers should consult counsel of their own choosing to discuss how these matters relate to their individual circumstances. Articles are not continuously updated, so information may become out-of-date. Reproduction in whole or in part is prohibited without the express written consent of De Leon & Washburn, P.C.