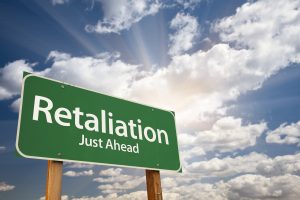 As an attorney handling employment discrimination matters, I am regularly asked whether a certain action will "look like retaliation", and possibly expose the company to liability. I always welcome the question, because it is the right instinct for employers and HR professionals to be mindful of whether a given response might constitute unlawful retaliation. On the other hand, I have noticed that the fear of a retaliation claim can paralyze managers and sometimes prevent communication that may actually diffuse an explosive HR situation. This leads me to the purpose of this post: I thought it would be useful to highlight two ways in which the boundaries of an unlawful retaliation claim are narrower than some might realize.
Title VII of the Civil Rights Act of 1964 prohibits employers from discriminating against employees based on their personal characteristics, including their race, color, religion, sex, and national origin, as set forth in 42 U.S.C. § 2000e-2, referred to by the courts as "status discrimination." Title VII also prohibits employers from retaliating against employees based on an employee's opposition to employment discrimination or complaint of discrimination. See 42 U.S.C. § 2000e-3(a). According to a recent Supreme Court decision, the number of retaliation claims filed with the Equal Employment Opportunity Commission (EEOC) nearly doubled in 15 years — from just over 16,000 in 1997 to over 31,000 in 2012. I have noticed that Plaintiffs often view retaliation claims as an easy "add on" when they are already in the process of pursuing discrimination claims through the EEOC.
A Stricter Causation Element – The Nassar case
The first tip when assessing a retaliation claim is to appreciate that the Supreme Court recently made it more difficult for a Plaintiff to prove the causal link between the employment action and the motive. In June of 2013, the U.S. Supreme Court directly addressed the appropriate causation standard for a retaliation claim. University of Texas Southwestern Medical Center v. Nassar, 133 S.Ct. 2517 (2013). The question was: Can a plaintiff prevail by demonstrating that his or her complaint or vocal opposition was a "motivating factor" in the employer's decision to take action against the plaintiff? Or, does the plaintiff need to meet the higher burden of establishing that the adverse action would not have been taken but for the complaint or vocal opposition. The Court, showing little deference to the EEOC, held that "but for" causation is the appropriate standard for Title VII retaliation claims. Stated another way, a plaintiff cannot prevail by showing that his or her protected complaint was one of several factors considered by the employer. You can read the text of the Nassar case here.
The Nature of the Complaint
I often have managers and owners tell me that they are reluctant to take any action because a certain employee has been "complaining a lot". The second point I want to highlight here is that unlawful retaliation is not created by any type of complaint. Rather, retaliation requires that the employee either (1) oppose a practice believed to be unlawful discrimination, or (2) participate in an employment discrimination proceeding. To take an obvious example, an employee complaining about the lack of file space in his cubicle is probably not opposing a discriminatory practice. On the other hand, a verbal complaint about the promotion of a woman over a man should certainly raise a retaliation flag. There are undoubtedly shades of grey in between these two examples, but I think it is important to always consider the nature of a complaint before jumping to any conclusions.
It is always the best practice to approach employee complaints thoughtfully, and with caution, but a good understanding of the limitations of a retaliation claim should at least help the analysis.
George B. Ward and the attorneys at De Leon & Washburn, P.C. are available to assist clients with employment compliance and litigation. For more information regarding the firm's labor and employment practice, please visit our Labor and Employment page, and please feel free to contact the attorneys at any time.
© De Leon & Washburn, P.C. This article is provided for informational purposes only. It is not intended as legal advice nor does it create an attorney/client relationship between De Leon & Washburn, P.C. and any readers or recipients. Readers should consult counsel of their own choosing to discuss how these matters relate to their individual circumstances. Reproduction in whole or in part is prohibited without the express written consent of De Leon & Washburn, P.C.