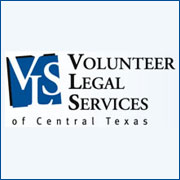 We are pleased to announce that earlier this month, President and Managing Partner, Ben De Leon was named to the Board of Directors of Volunteer Legal Services of Central Texas (VLS). At De Leon & Washburn, P.C., we look forward to seeing this partnership grow and the Central Texas community fostered by the services of VLS.
Since 2005, De Leon has served as a pro bono attorney for VLS, which exists to provide free legal services to Central Texas residents below the federally mandated poverty line. From 2007-2009, De Leon was honored with the Judge Suzanne Covington Pro Bono Service Award, which recognized his individual work with pro bono clients through VLS. In 2010 the firm was the recipient of the Judge Joseph H. Hart Award, recognizing the firm's commitment to VLS in taking on numerous cases and devoting scores of hours to its pro bono clients. Indeed, the firm has a longstanding commitment to community service; all attorneys are encouraged to represent at least one VLS client at all times.
De Leon's customary practice includes general civil litigation, appellate, insurance and transactional law. For the past five years, through his work with VLS, De Leon has often represented Spanish-speaking women, some of whom have been abused by and are seeking divorces from their husbands. The divorces typically involve children, custody disputes and child support battles.
De Leon says, "Service to others is one of the fundamental tenets of being an attorney. I'm extremely thankful for this opportunity, and I look forward to working with the rest of the Board to further strengthen VLS's core purpose."
To learn more about VLS and its services, please visit www.vlsoct.org.