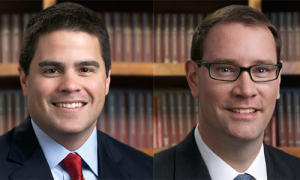 De Leon & Washburn, P.C. is proud to announce that attorneys Ben De Leon and George Ward have been selected as Super Lawyers – Rising Stars for 2016*. This is Ben's sixth designation as a Rising Star, and George has received the award for five consecutive years.
Ben continues to represent clients in matters involving administrative law, insurance compliance and regulation, corporate law and real estate.  Ben advises clients on contract formation and interpretation, matters before state and federal administrative agencies, business acquisitions, commercial disputes, and real estate matters, among other issues.
George represents local and regional businesses in matters of labor and employment, corporate litigation, and commercial transactions.  He always enjoys advocating for his clients in the courtroom, when necessary, but he finds it most rewarding to helps his business clients integrate their risk strategy into their growth model to avoid litigation.
Both attorneys welcome the honor as they continue the firm's tradition of honest and effective representation and community service. Please see the Attorney Bio section of the website for more detailed information about Ben, George, and all the attorneys at De Leon & Washburn, P.C.