Theresa Golde
Attorney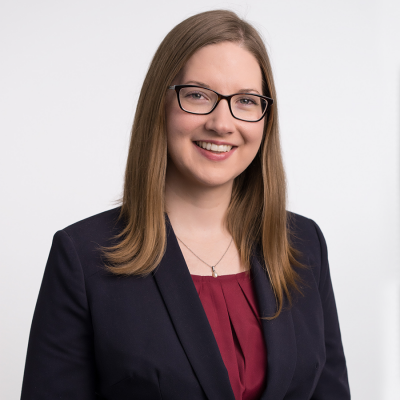 Education
St. Edward's University, B.A. Communication, summa cum laude, 2009
Texas Tech University School of Law, 2016
Practice Areas
Commercial Litigation
Real Estate & Construction
Administrative Law
Employment Law
Insurance Law
Theresa Golde joined De Leon Washburn & Ward, P.C. in September 2016 after having clerked for the firm through both summers in law school. She is quickly gaining experience in the areas of commercial litigation, insurance regulation, administrative law, and employment law. 
Prior to law school, Theresa interned for the Texas State Board of Pharmacy, gaining an understanding of administrative law and the procedures within an administrative agency. Theresa also interned for Senator Larry Taylor during the 83rd Legislative session, getting a perspective on the legislative process, helping breakdown complicated legislation, and communicating regularly with constituents, lobbyists, and advocacy groups.
During her time in law school, Theresa took on a variety of responsibilities. She was elected to join the Texas Tech Law Review, where she served as a staff member and was later appointed as a Comment Editor. She also served as Associate Dean Humphrey's research assistant for two years. Additionally, in the spring of 2015, Theresa joined the ADR Clinic, where she became a trained mediator. She mediated cases throughout the year through Lubbock County's Office of Dispute Resolution. In her last semester of law school, Theresa externed for Texas Tech's Office of General Counsel. As a full-time extern, she worked on policy matters, Open Records Requests, and researched compliance matters, property law, agricultural law, and contract law.
Theresa grew up in Glendale, CA, and moved to Austin in 2007, after her husband served four years in the United States Marine Corps. She is married to Brian Golde, and the two are now happily settled down in Austin.
Texas Tech University School of Law Merit Scholarship 2013-2016
M. Penn L. Award for the best researched and summated student article
Top Extern Award for the Lubbock Region
Pro Bono Honor Roll
Pennies an Hour: Was this Really the Intent Behind § 14(c) of the Fair Labor Standards Act? A Note Calling for a System Change to an Otherwise Broken System, Texas Tech Law Review, Vol. 48, No. 2 (2016).